Home

/

Cif Oven and Grill Cleaner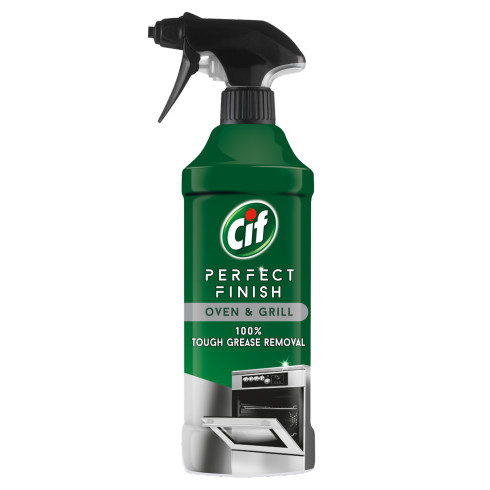 Cif Oven and Grill Cleaner
This specialist oven cleaner spray has been scientifically formulated to cut through burnt-on grease, delivering 100% tough grease removal. A reliable oven cleaner will cut through even the most difficult grease stains on your oven, grill, and hob – and when it comes to cleaning the oven, Cif's oven cleaner and grill cleaner spray leaves your surfaces with a beautiful finish. Cif Perfect Finish Oven and Grill Spray is also suitable for use on outdoor cooking equipment such as barbecue grills.
For more detailed tips and advice on cleaning your oven, visit Cleanipedia.
How to use Cif Perfect Finish Oven Cleaner Spray:
Apply the oven cleaner directly to cold surfaces until completely covered. Leave the spray to work for up to 30 minutes depending on the toughness of the soil, then rinse.

Keep in a cool place and store upright.

As Cif's best oven cleaner, it's also suitable to use on outdoor cooking equipment such as barbecue grills.

Do not use the oven cleaner on the oven trim, the pilot light, or heating and fan elements. Do not use on self-cleaning ovens. In case of any doubt, refer to your oven's manufacturing instructions. Do not use on aluminium, copper, brass, marble, painted wood, or appliance lettering.
For a thorough clean of the oven and beyond, the Cif cream cleaner will come in handy for removing grease and grime around your kitchen, while the Cif stainless steel cleaner will take care of limescale and water marks on your stainless steel surfaces. For a simple, quick wipe down of the kitchen, you can use the Cif kitchen wipes.
Benefits
100% grease removal for a brilliant finish
Tough on grease and burnt-on food to leave your oven gleaming
Restores the sparkle of your oven from the inside out
Oven cleaner is also suitable for other cooking equipment such as barbecues
<5% Amphoteric surfactants, perfume, limonene.