Home

/

Cif Power & Shine Kitchen Spray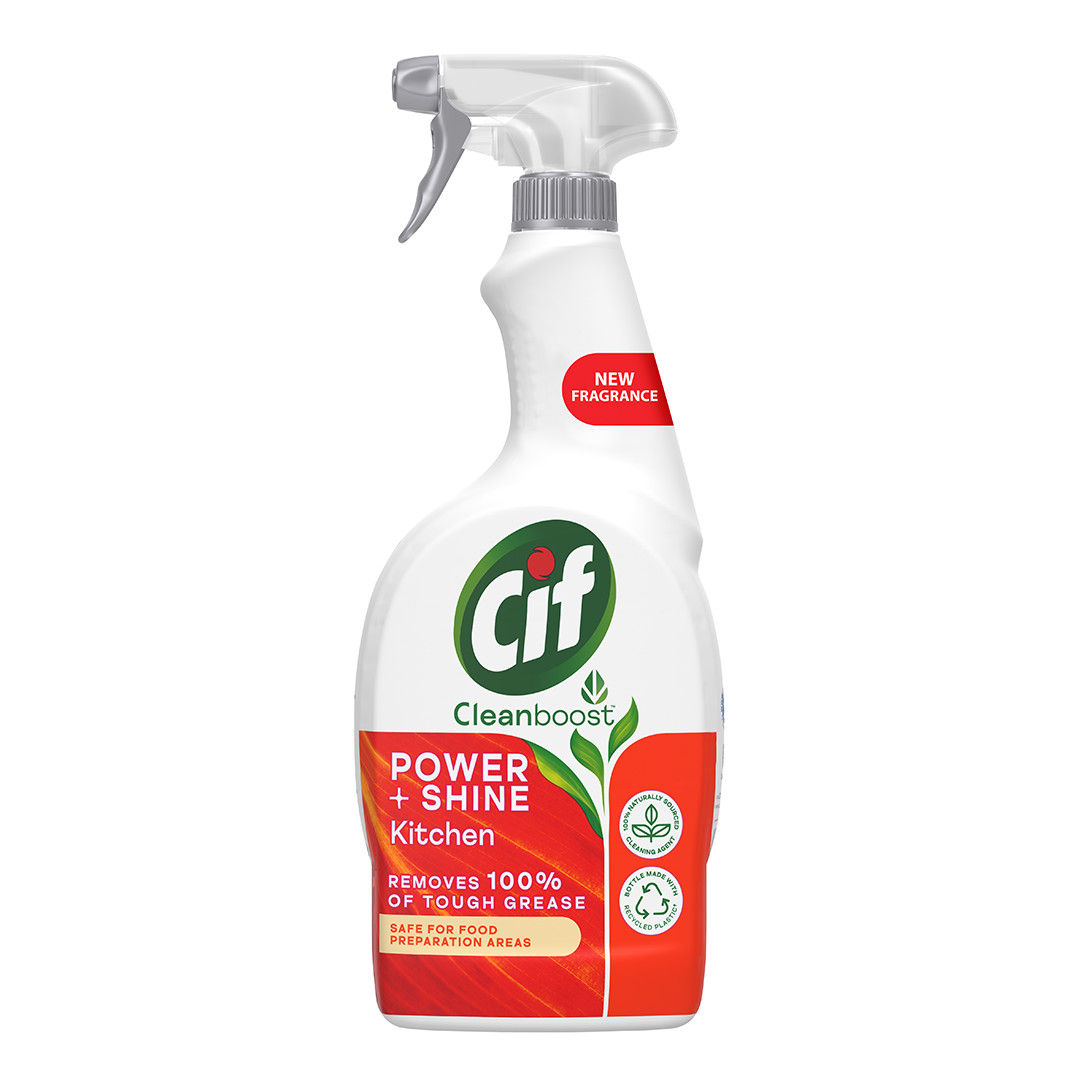 Cif Power & Shine Kitchen Spray
Keep your kitchen gleaming with the best Cif kitchen cleaner – Cif Power & Shine Kitchen Spray. Its naturally derived cleaning agents quickly lift away 100% of tough grease for an unbeatable streak-free finish. The ultra-degreaser will restore the busiest room in the house to it's beautiful best.
Our lightweight formula cuts through grease in just one wipe, leaving your kitchen surfaces sparkling with a zesty finish. Enjoy a streak-free shine on ceramic, chrome, and enamel surfaces – first time, every time. Cif Power & Shine Kitchen Spray proves to be an effective kitchen cleaner spray for hobs and cooker hoods too!
For hints and tips about how you can keep your kitchen beautifully clean, visit Cleanipedia.
How to use Cif Power & Shine Kitchen Spray:
For beautiful cleaning results every time, spray onto the surface, leave for a few seconds and wipe with a cloth.

For tough dirt leave for a few minutes before wiping clean.

Do not use on painted or wooden surfaces, anodized aluminium, linoleum and unfinished stone.

Rinse well after using on marble, natural stones, painted metal or vitro-ceramic. Always use on cold surfaces.

Do not use on lettering and symbols.

Always follow your appliance and surface manufactures' care instructions.

For new or unusual types of surface, test on a small inconspicuous area first.
If you're looking for a powerful kitchen wipe rather than a kitchen cleaner spray, we have you covered with Cif kitchen wipes. They cut through grease and remove dirt from all over your kitchen, leaving it clean and sparkling. Meantime, a reliable antibacterial spray, like the Cif antibacterial spray, will help you clean and disinfect, all in one go!
Try our range of all multi-purpose sprays and Cif kitchen cleaners for the many areas of your home. Our products bring a smile to your face while leaving no damage behind on your surfaces. Revealing the beauty in your home with Cif has never been easier.
Benefits
Cif's best kitchen cleaner spray, keeping your kitchen gleaming
Removes 100% of tough grease
Leaves a 100% streak-free shine
Safe for food preparation areas
100% biodegradable fragrance
No harsh smells
<5 % Non-Ionic Surfactant, Perfume, Limonene, Phenoxyethanol.