Home

/

Cif Cream Pink Tuberose Multi-Purpose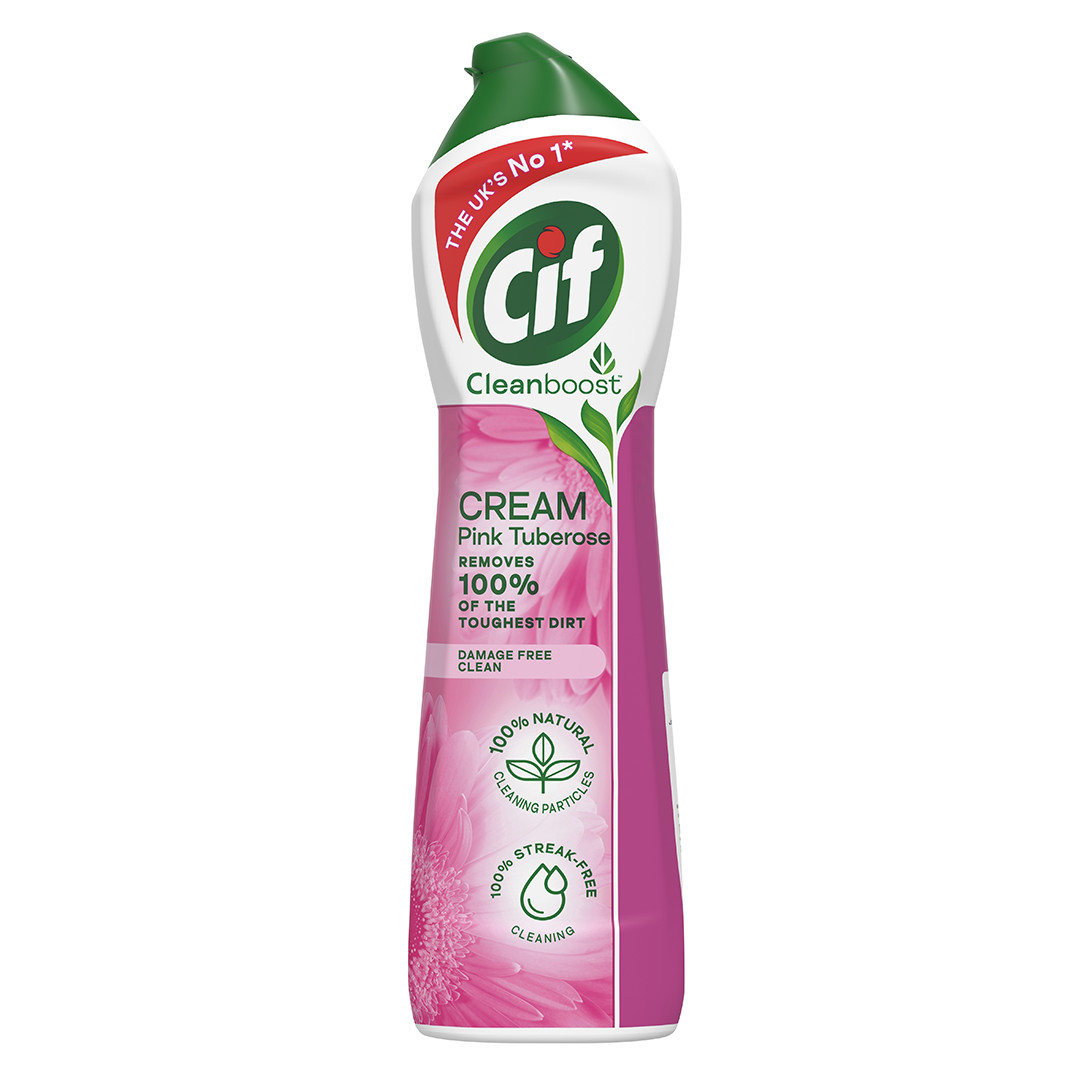 Cif Cream Pink Tuberose Multi-Purpose
New Cif Cream Pink Tuberose, with its refreshing floral scent, is made with 100% natural cleaning particles derived from limestone to provide gentle and reliable cleaning. This Multi-purpose surface cleaner removes 100% of tough dirt for a beautifully clean finish on a range of surfaces. What's more is that this bottle of Cif Cream is made with recycled plastic and is 100% recyclable, all you have to do is remove the sleeve.
Cif Cream's formula is now better than ever, working effortlessly to leave your surfaces with a sparkling finish and a 100% shine that's sure to make you smile. And now thanks to its new texture, it requires less rinsing meaning you can say hello to your beautiful home even sooner! All you'll need is a tiny squirt to completely remove all kinds of ugly dirt – even those that seem impossible to clean such as encrusted grease, grimy mud on trainers, or dirty marks from walls.
We develop cleaning products that deliver amazing results, bringing a smile to your face while leaving no damage behind on your surfaces. Revealing the beauty in your home with Cif Cream has never been easier.
For hints and tips about where Cif can reveal the beauty in your home, visit Cleanipedia.
How to use Cif Cream Pink Tuberose Multi-Purpose Cleaner:
Apply to surface using a damp cloth, then simply wipe over and gently rinse away.

Do not use on linoleum, leather, or textiles, and avoid prolonged contact on painted wood and aluminium.

For delicate surfaces and materials, any new/unusual type of usage, painted surfaces, and aluminium, test Cif Cream on an inconspicuous area first, rinse immediately after use, and avoid heavy rubbing.

Suitable for vitro-ceramic (leave the plate to cool before cleaning thoroughly).
Benefits
The UK's No 1 (1)
Damage Free Clean
100% Natural cleaning particles
100% streak-free cleaning
Bottle made with recycled plastic (2)
(1)Nielsen, Total Market Multipurpose Abrasives, Value/Volume Sales MAT, Nov 2021 (2)Made with 50% recycled plastic, while we work towards 100% recycled plastic.
<5% Anionic surfactants; Non ionic Surfactants, Phenoxyethanol, Soap, Perfume.