Home

/

Cif ecorefill Power & Shine Kitchen Cleaner Spray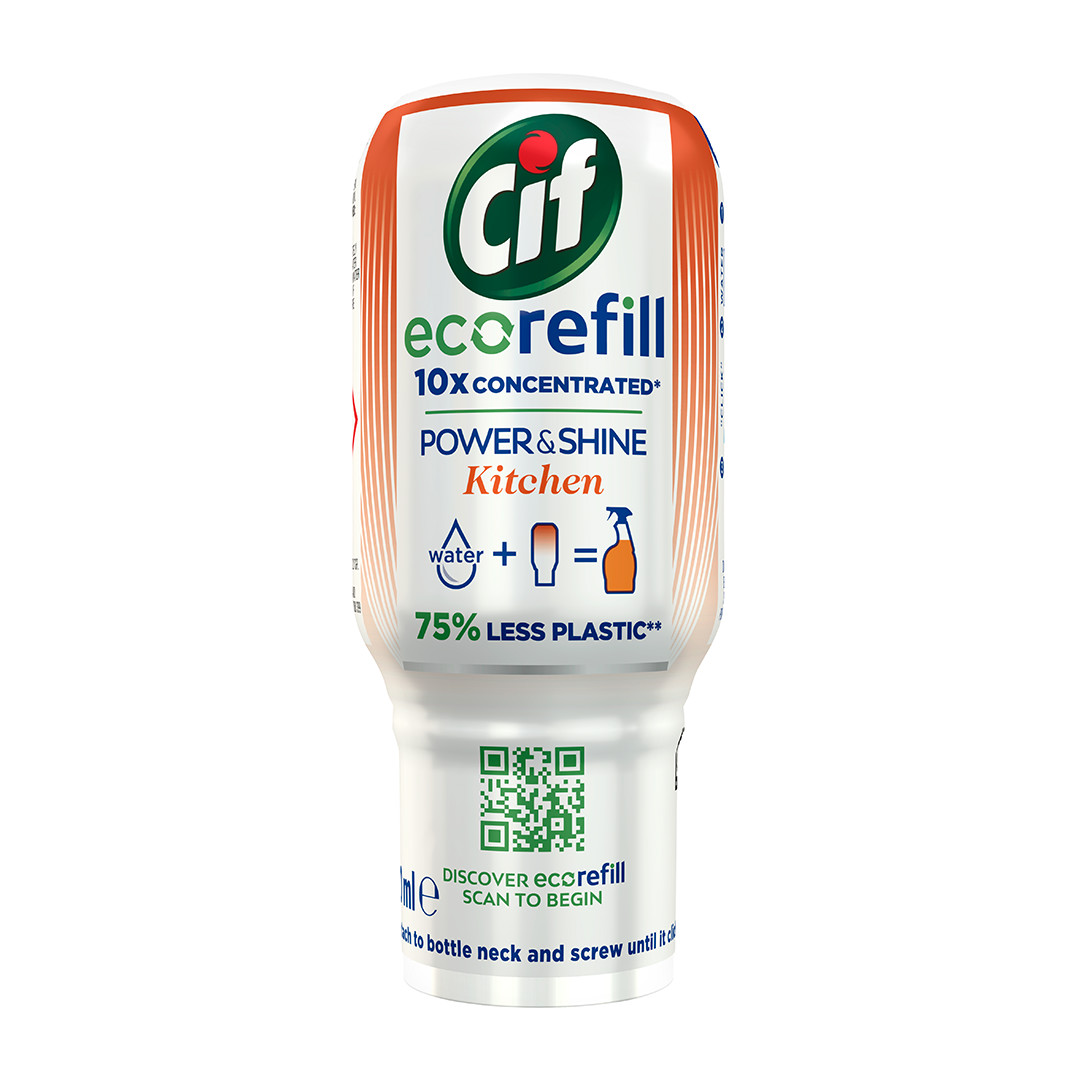 Cif ecorefill Power & Shine Kitchen Cleaner Spray
Want a powerful kitchen cleaner that helps you save space and use less plastic? Try Cif ecorefill Power & Shine Kitchen. This 10x concentrated cleaning spray refill delivers the same beautiful cleaning results of Cif in a convenient and eco-friendly cleaning product so you can upgrade your cleaning routine without compromising quality.
The perfect way to reduce, reuse, recycle plastic at home, this kitchen cleaner spray refill leaves kitchen surfaces shiny and beautiful. Use this tough degreaser on chrome, ceramic and even enamel and achieve 100% streak-free shine and 100% tough grease removal while going green.
By choosing ecorefill and reusing your spray bottle for life, you use 75% less plastic*. Switch to Cif ecorefill today and turn your ordinary Cif Power & Shine Kitchen spray into a refillable spray bottle.
The Cif ecorefill products range also includes Power & Shine Bathroom so you can turn more of your regular cleaning products into reusable spray bottles. Through the Unilever Sustainable Living Plan, Unilever's mission is to make sustainable living commonplace. By 2025 we have committed to ensuring that all our plastic packaging is fully reusable, recyclable or compostable. The 10x concentrated Cif ecorefill means a Cif bottle can be reused for life thus reducing the plastic footprint of each product by 75%.
Welcome to the #ecorefillrevolution.
For more information on Cif ecorefill Kitchen, visit our FAQ's page.
Benefits
Cif ecorefill Power & Shine Kitchen is a 10x concentrated kitchen cleaner that allows you to reuse your spray bottle for life
The Cif Kitchen refill uses 75% less plastic vs the 700ml spray bottle and reduces 80% of trucks on the road
Safe for food preparation areas
100% biodegradable fragrance and a fresh fragrance
The refillable cleaning products have the same great performance as the standard Power & Shine spray
The 10x concentrated kitchen spray refill cuts through persistent dirt without damage, leaving a 100% streak-free shine
This kitchen cleaning refill saves space in the cupboard and it's lighter to carry
15 - 30% Non-ionic Surfactant. < 5% Perfume, Limonene, Benzyl Benzoate, Geraniol.